On the night of April 9, 2022, and early morning of April 10, a political -- nay, an existential -- upheaval took root in Pakistan that continues to this day. The "imported government" of many parties, brought together by the then-Chief of Army Staff, General Qamar Javed Bajwa, overthrew the elected government of then-Prime Minister Imran Khan. Since that fateful night, this imported government, believed to be backed by certain western powers, has wrought destruction on the very fabric of Pakistan.
This living page is an attempt to document the heroes that have emerged since and the victims of a fascist state led by two successive Army Chiefs and their puppet regime.
Imran Khan
Imran Khan was at the receiving end of a first in Pakistan's history: removed as Prime Minister by the National Assembly through the vote of no confidence.
Since then he has rallied the nation through massive rallies all across the country, numerous video messages, and frequent interviews to journalists in Pakistan and abroad. In 37 by-elections held since that fateful night, his party has won 30 elections by significant margins.
He was targeted by an assasination attempt in November 2022. Thankfully, he survived it because of the bravery of one young man.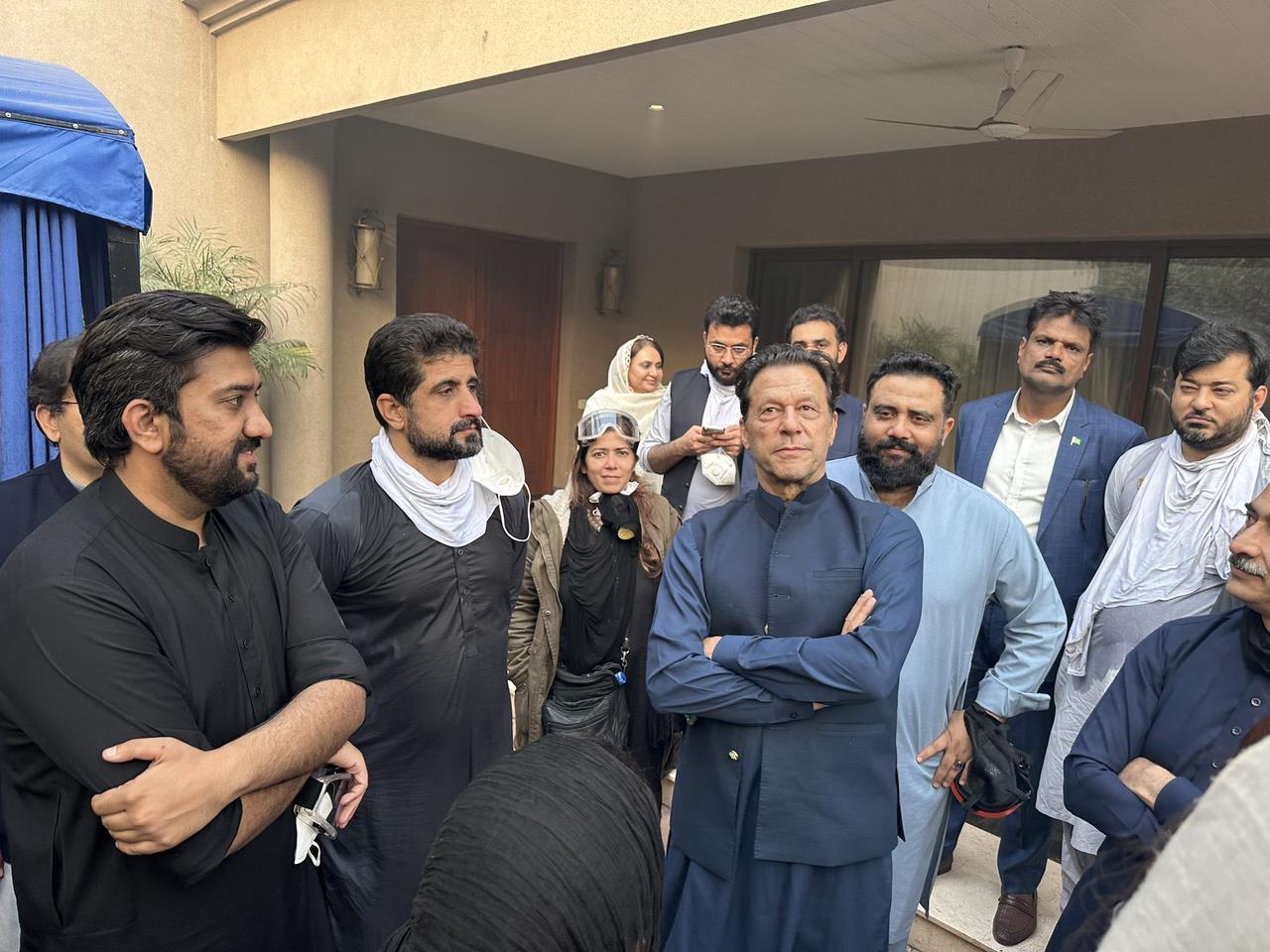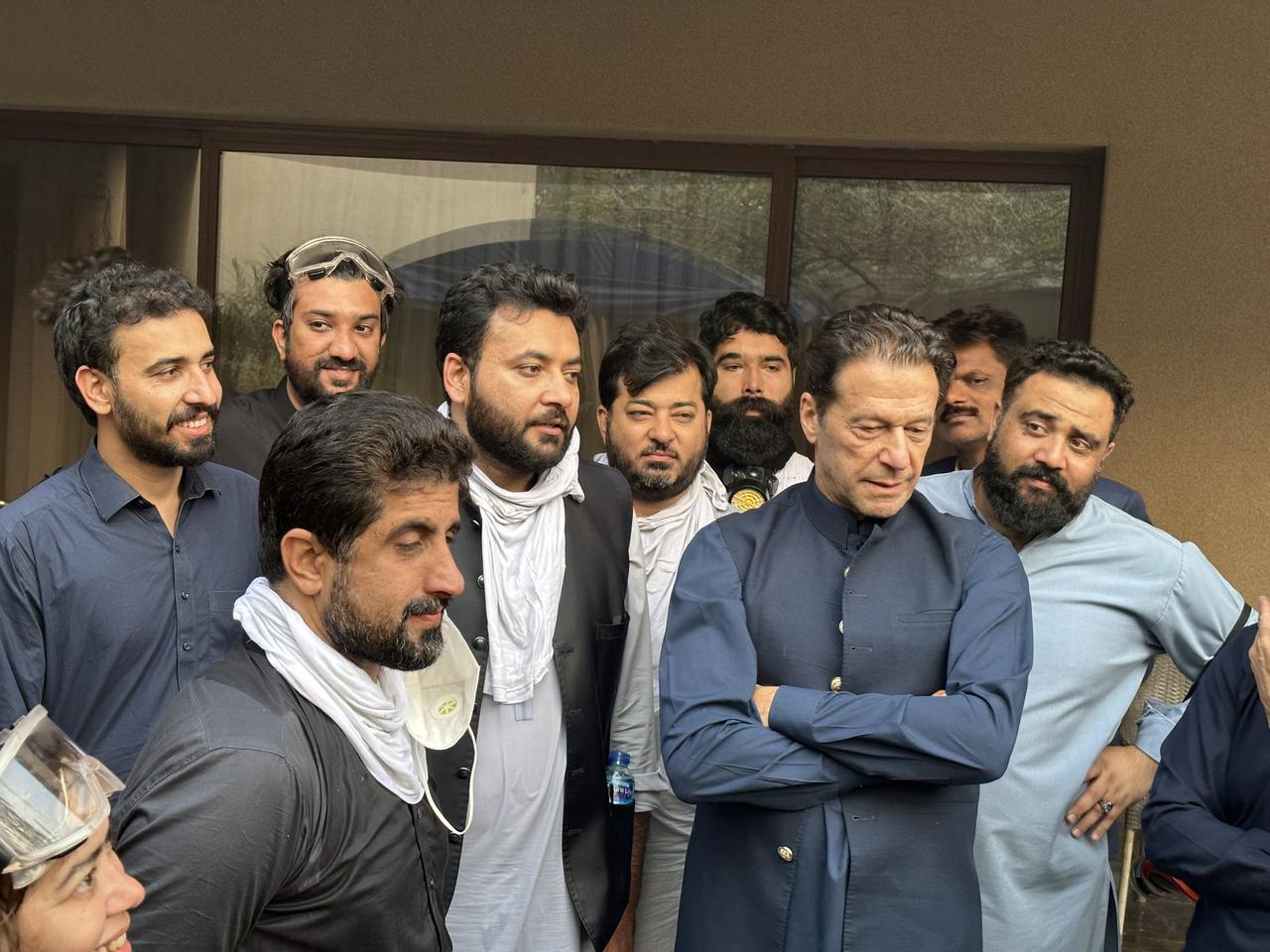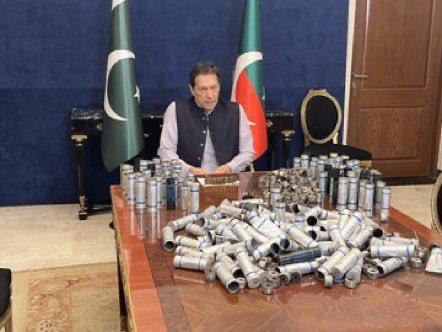 Asad Qaiser???
Qasim Shah Suri
Shah Mehmood Qureshi
Asad Umar
Shireen Mazari
Ali Muhammad Khan
Stayed back after all PTI members left the National Assembly after the vote of no confidence succeeded. He made a rousing speech that will be remembered for ages.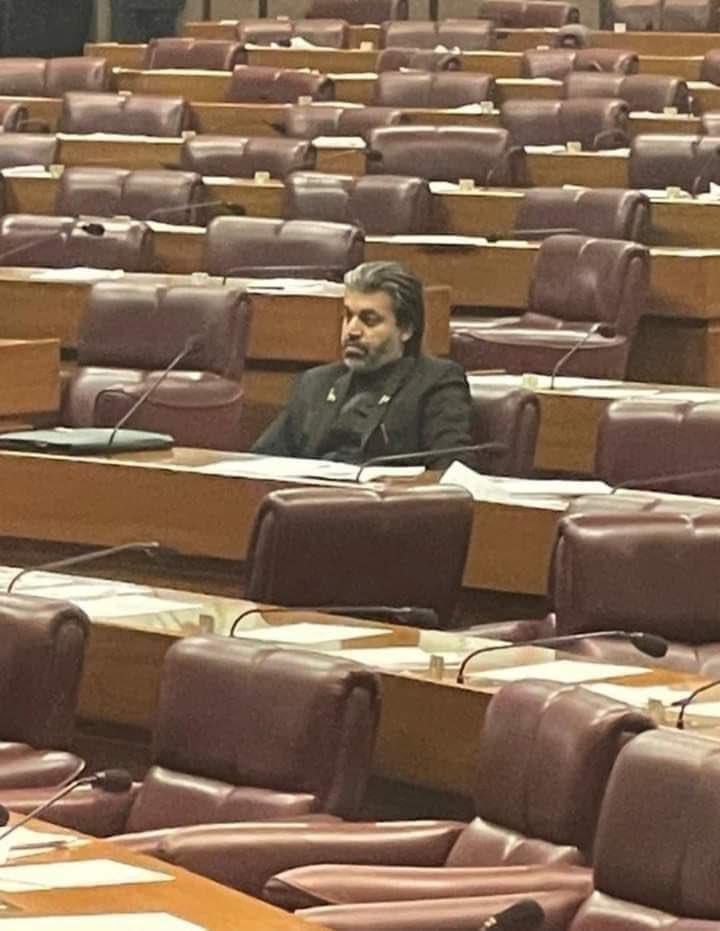 Aliya Hamza
Imran Riaz Khan
Arrested for a few days then arrested again
Dr Yasmeen Rashid
Farrukh Habib
Stopped police car abducting Fawad Chaudhary.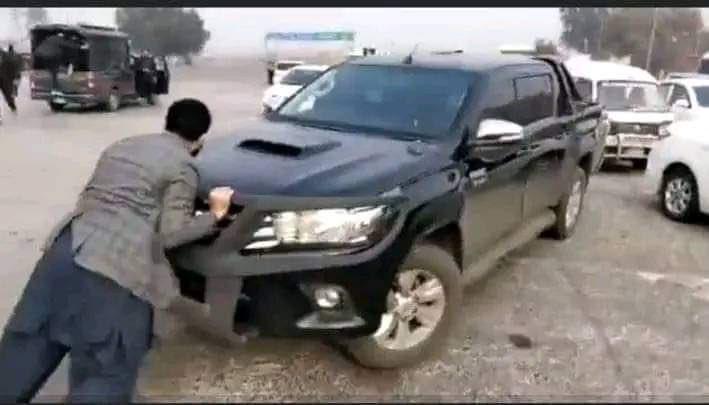 Fawad Chaudhary
Arrested for disrespecting Chief Election Commissioner of ECP, calling him munshi (clerk).
Faisal Javed Khan
Shot in the face in the November attack.
Murad Saeed
Sheikh Rasheed
Arrested by police, Lal Haveli sealed for a few days.
Hammad Azhar
Usman Buzdar
But he didn't participate in long march in May.
Umar Cheema
Imran Ismail
Ali Zaidi
Shehryar Afridi
Zartaj Gul
Ali Ameen Gandapur
Attacked three times by police firing in March 2023. Some guards & staff arrested, some injured.
Salman Ahmed
Najam Sheraz
Adeel Hashmi
Jibran Ilyas
Shahzaib Virk
Abu Bakar
Young man from Lakki Marwat who met Imran Khan in Bani Gala & cried when he met him & cried after Abottabad jalsa.
Asad Kharal?
Usman Dar
Umar Dar
Usman's brother.
Sami Ibrahim?
Shaheen Sehbai?
Omar Ayub Khan
Shaukat Tareen?
Ibrahim
A mute kid who came to protect Imran Khan & was stung by scorpion 3 times.
He became a sensation when Imran Khan signed his kameez. PDM & PPP started copying Khan thereafter by signing shirts.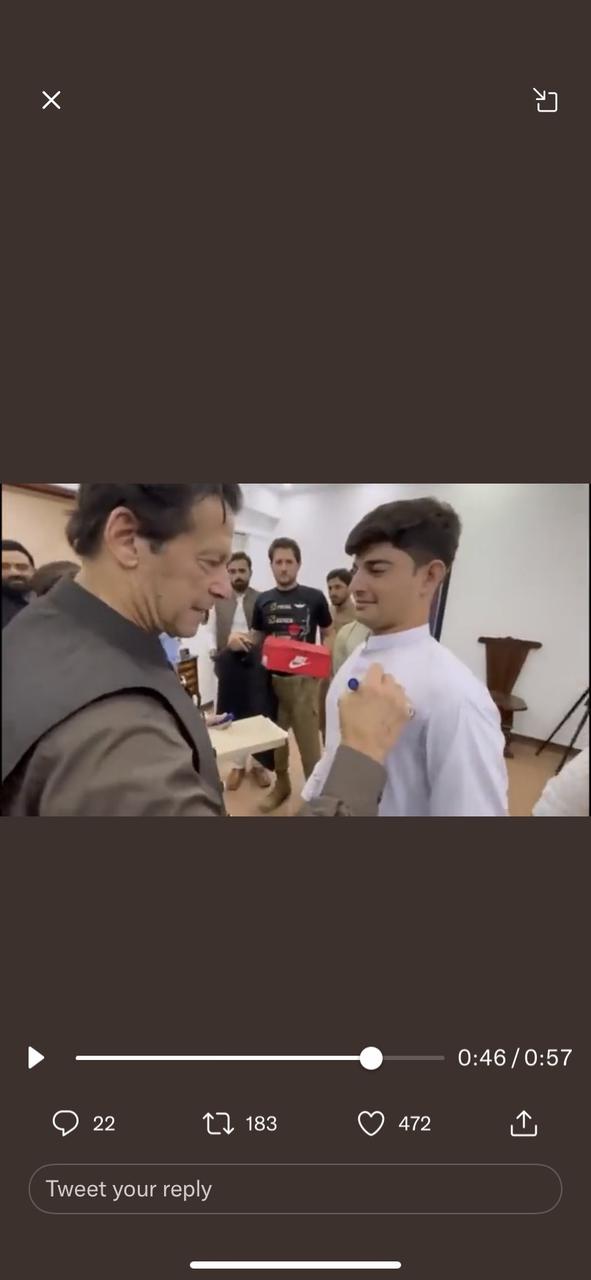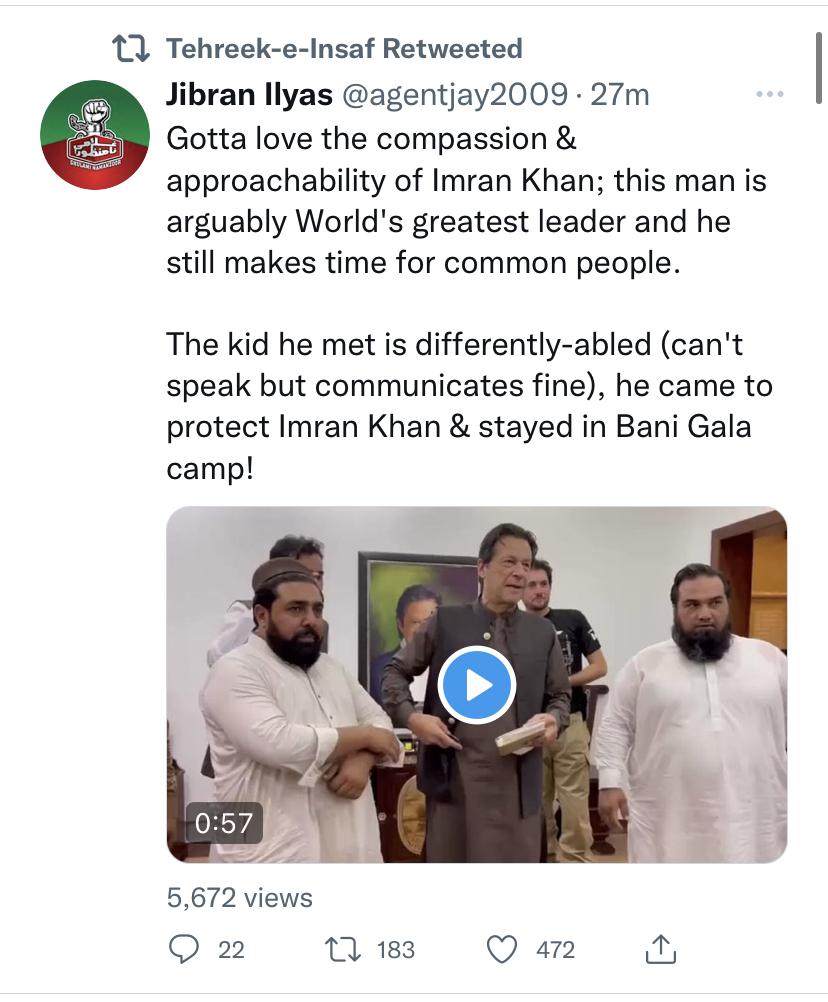 Ibtisam Hassan
Tackled gunman in the November attack.
Moazzam Nawaz Gondal
Leapt to tackle one of the November gunman & died. His young children were with him and surrounded his body immediately after. Imran Khan met his mother, children, nephews, and nieces, and vowed to financially support them until they're grown.
Arshad Sharif
Killed in Kenya, suspected to be by Army and ISI.
Shahbaz Gill
Kidnapped & tortured.
Driver of Shahbaz Gill
Went underground after Gill's arrest and the police took his wife & kids to force him out of hiding.
Ayaz Amir
Amir is a journalist and was beaten by police.
Sabir Shakir
Journalist, who worked for ARY News and fled the country for safety.
Mooed Pirzada (left country)
Journalist, who fled the country for safety.
Azam Swati
Senator, kidnapped/arrested twice & tortured, video of his private moments with his wife leaked to his family.
Ch Ghulam Hussain
Journalist, arrested.
Sadaf
Journalist, crushed under container during long march.
Faisal Abbas
A PTI worker who was murdered by police on May 25, 2022. They threw him down a bridge on river Ravi. PTI collected funds, including from Seattle, to support his family.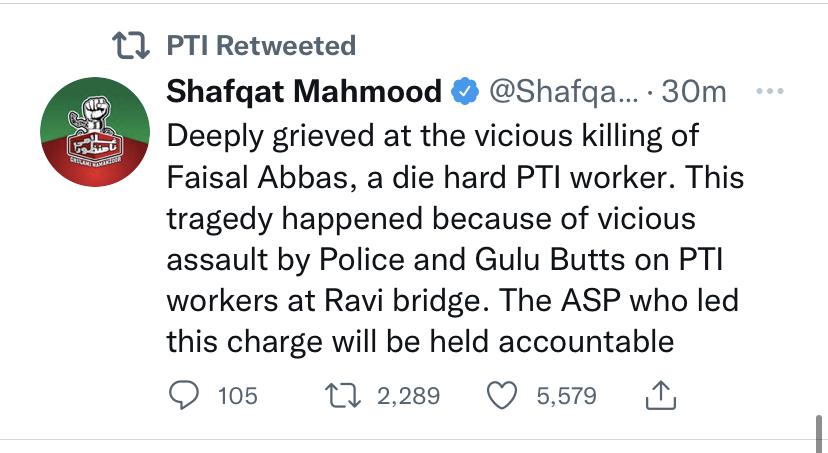 Syed Ahmad Shah
Died (murdered by police?) on May 25, 2022. PTI collected funds, including from Seattle, to support his family.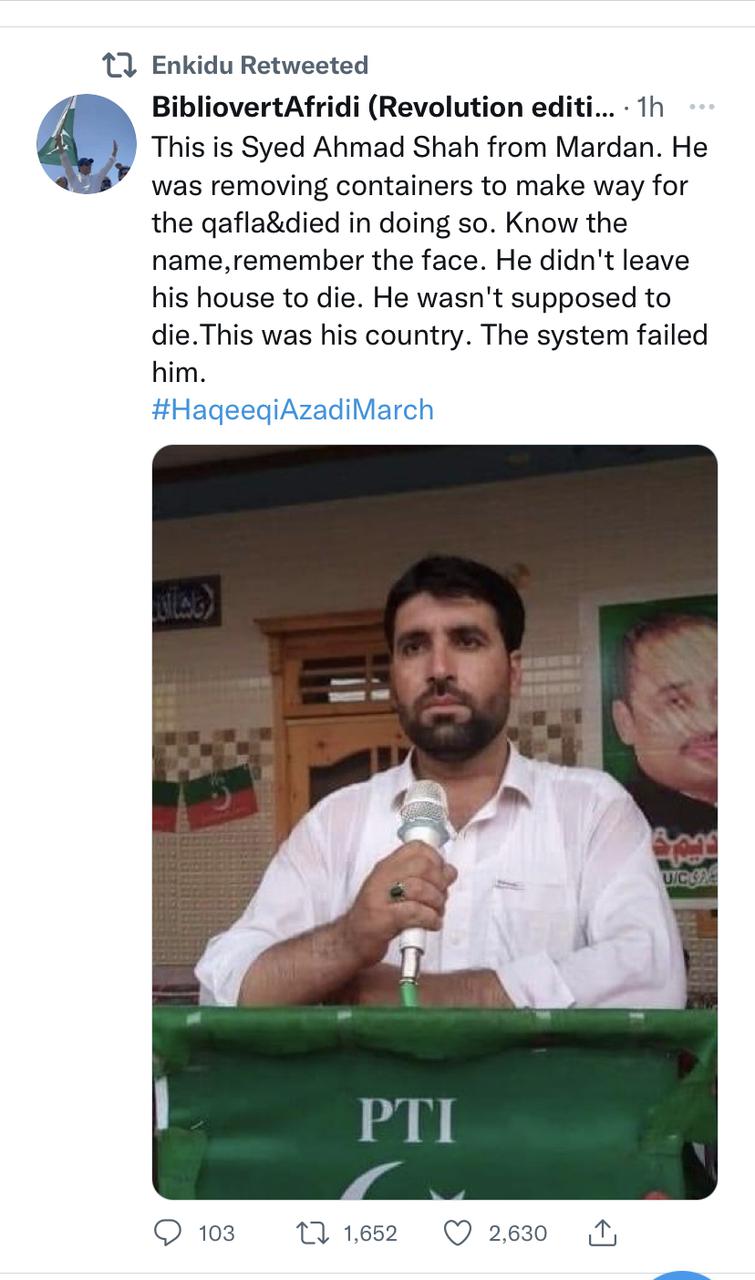 Lt Gen Sarfraz
Died in a mysterious helicopter crash. No formal investigation conducted and not reports of the cause made public. He was purported to be Imran Khan's choice to replace Bajwa as the next COAS.
Dr Rizwan
FIA officer investigating money laundering and other cases against Shahbaz Sharif and his family. He died mysteriously of cardiac arrest.
M Zahid
Security gaurd of Khan who took 6 bullets in Wazirabad (November) incident.
Farhan
Friend of Moonis Ilahi kidnapped & tortured for 3 days.
Shahid Aslam
Journalist, arrested by police after he broke story of Bajwa & family's assets.
Maulana Hidayat ur Rahman Baloch
Arrested after speaking about military checkpoints everywhere instead of schools, teachers, drinking water, university, etc.
Moonis Elahi
Establishment pressured him to convince his father, Pervez Ilahi, to not dissolve Punjab assembly. He fled the country.
Talha Labib
Journalist, arrested for criticizing the government.
Javed Ali
School guard with ties to Usman Dar, arrested & tortured naked to give statement against Dar, threatened with taking off his wife's & kids' clothes & posting videos on Facebook.
Ali Bilal urf Zille Shah
Abducted by police in election rally on March 8 2023 and murdered in custody.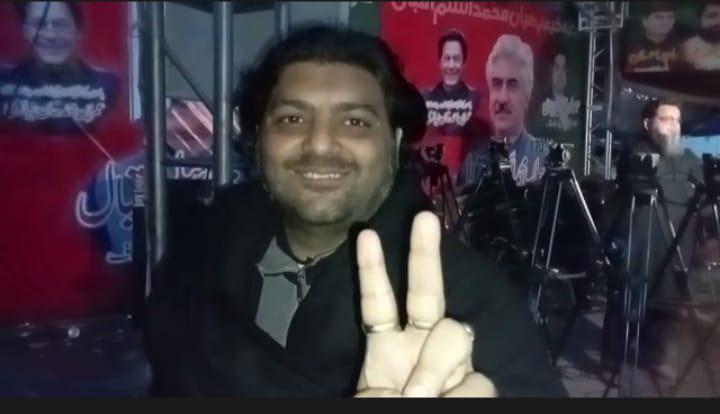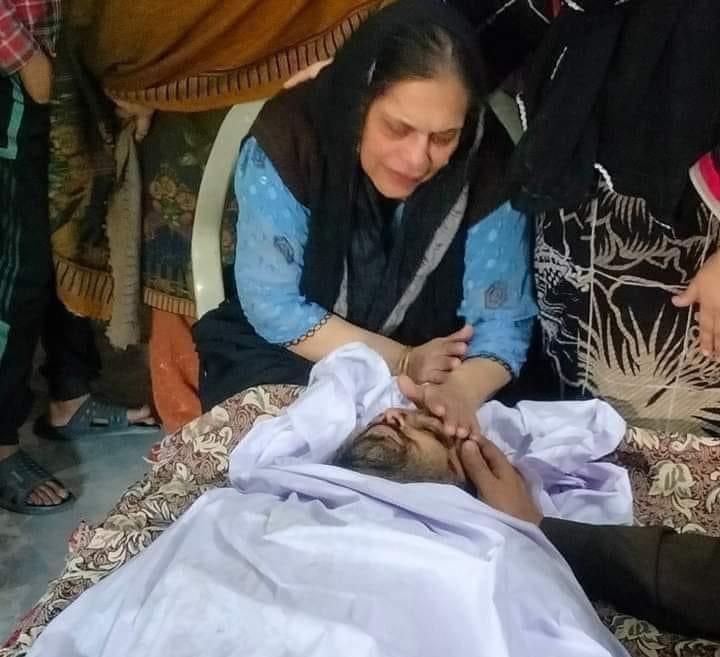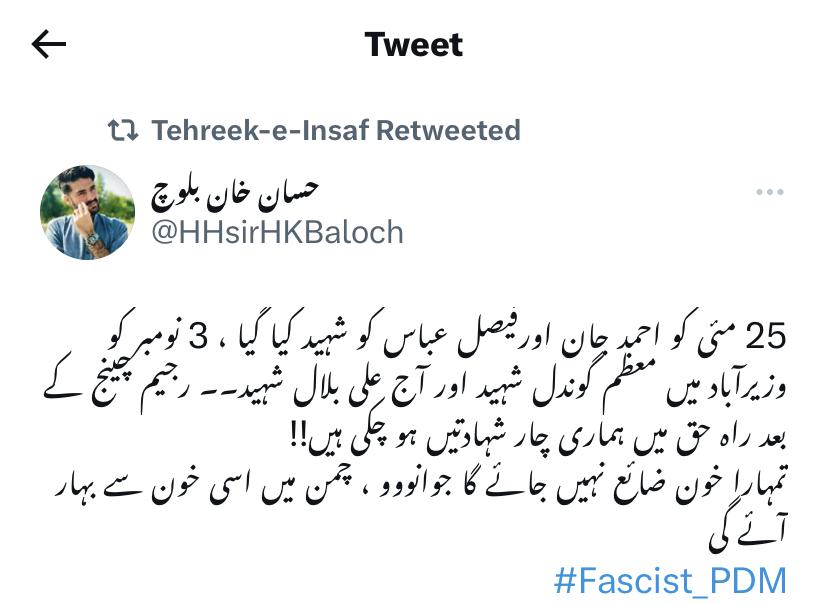 Ali Bilal's father met with Imran Khan soon after his son was killed. He was later pressurized by police to retract his FIR against police and government.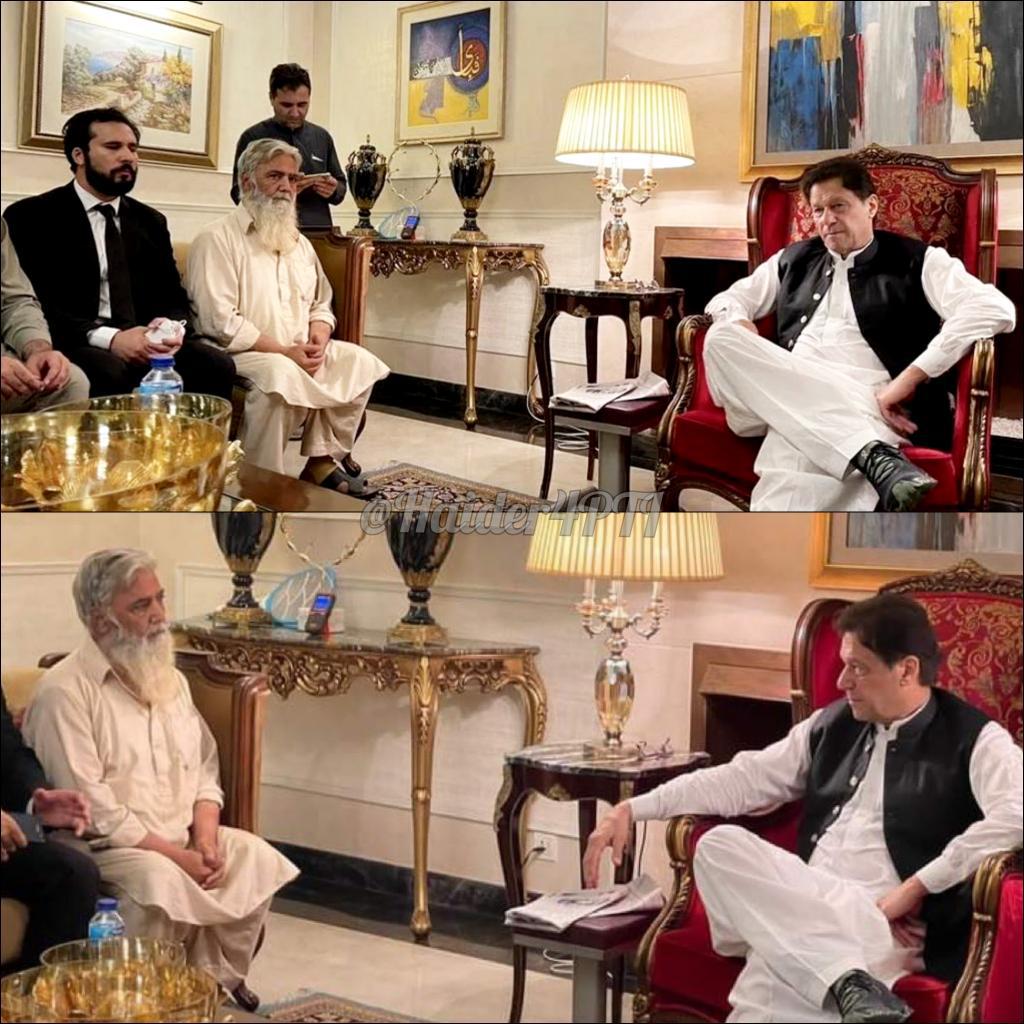 Hasnain Rafiq
Journalist of Naya Pakistan channel arrested on March 8 2023.
Arsalan Taj Ghumman
MPA Sindh abducted by police from home.
Aamir Mughal
Police entered his home & beat his sons & nephews aged between 12 & 22.
Siddique Jan
Journalist, abducted by law enforcement and status unknown.
Idrees Chachar
Journalist, arrested together with Siddique Jan.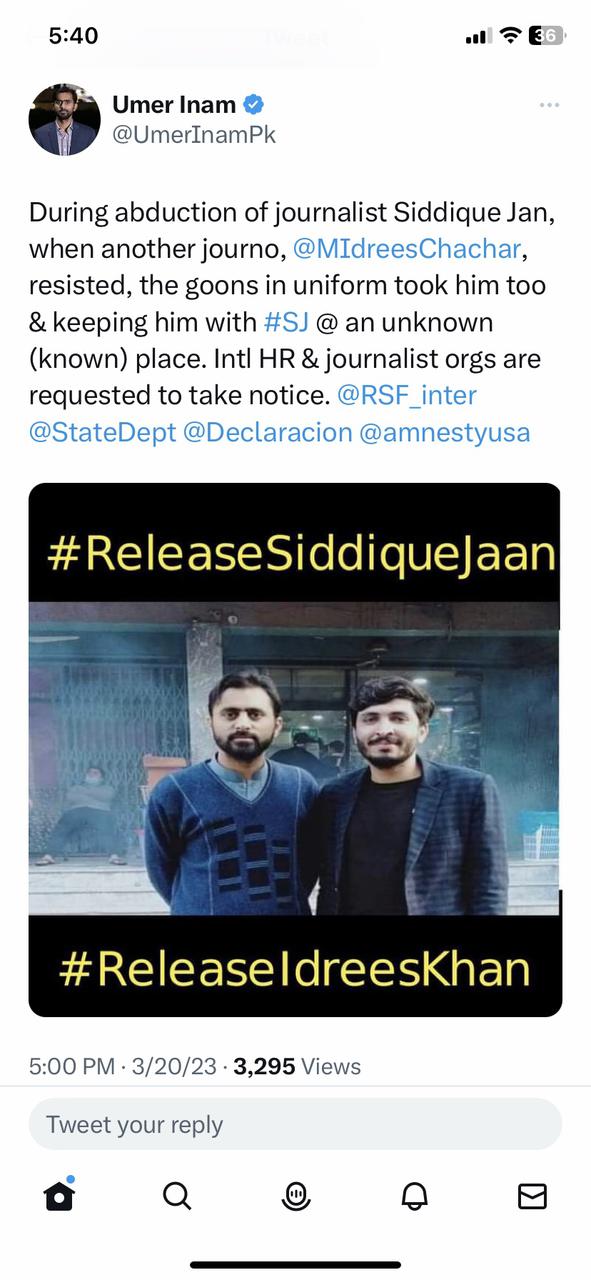 Maleeka Bukhari
Lawyer, who helped Khan in many situations.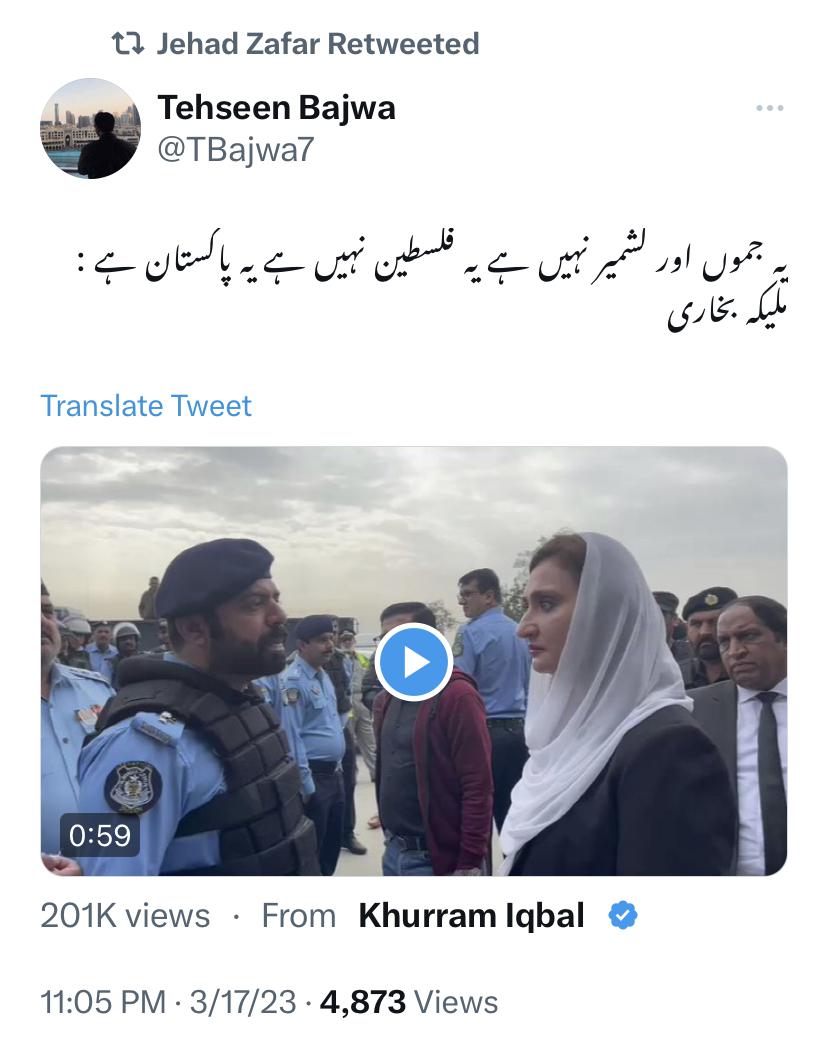 Usman Jaura
Protected a stranger woman from straight fire from Rangers during March operations on Zaman Park.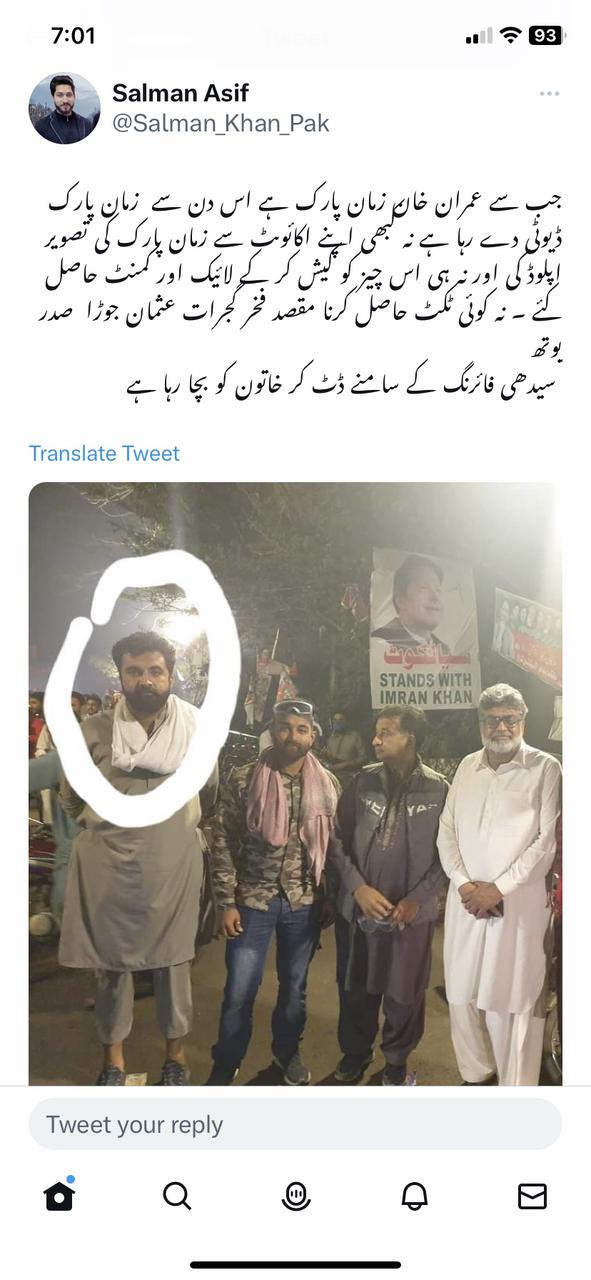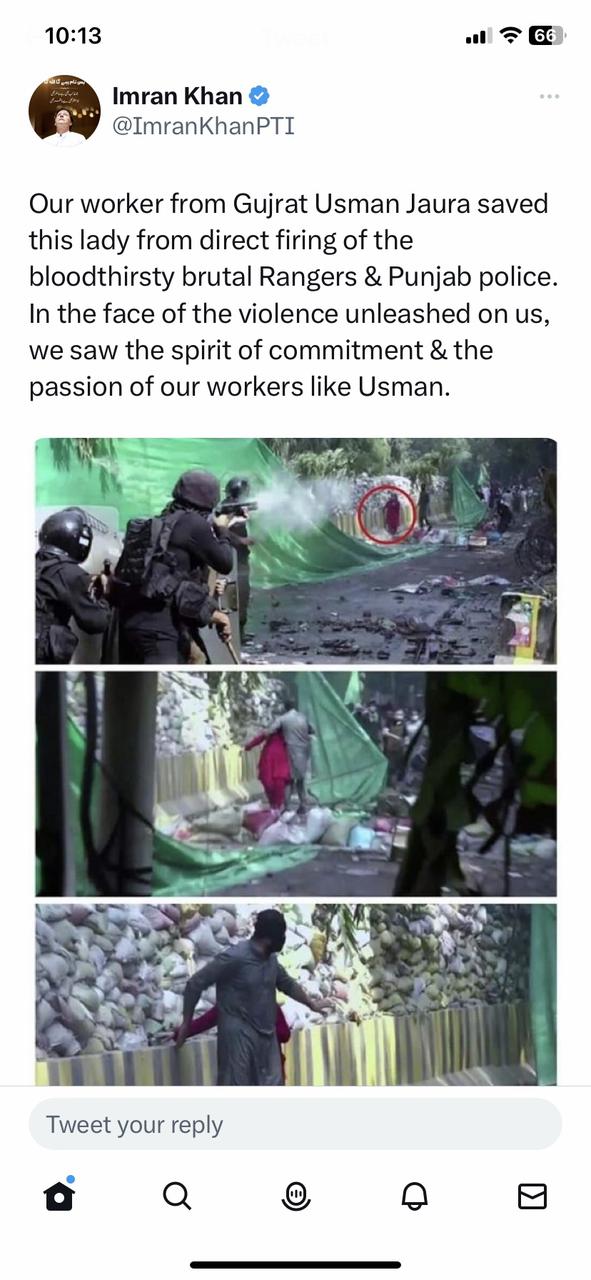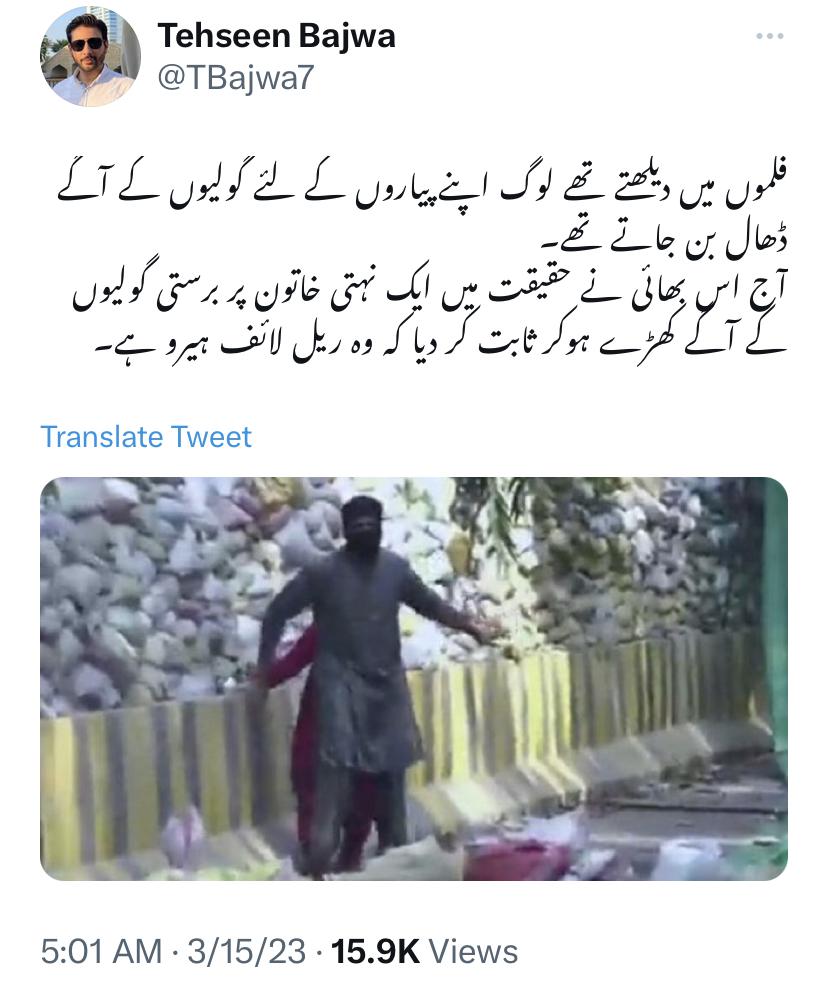 Judge Ghulam Murtaza Virk
Good judgments in favor of victims of fascist state.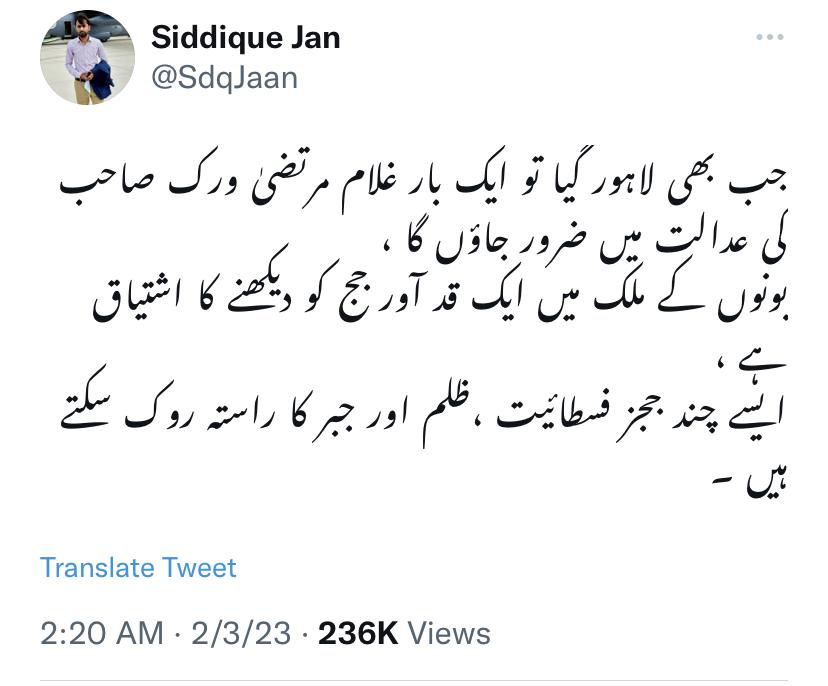 Justice Jawad Hassan
Ordered to hold Punjab elections on time.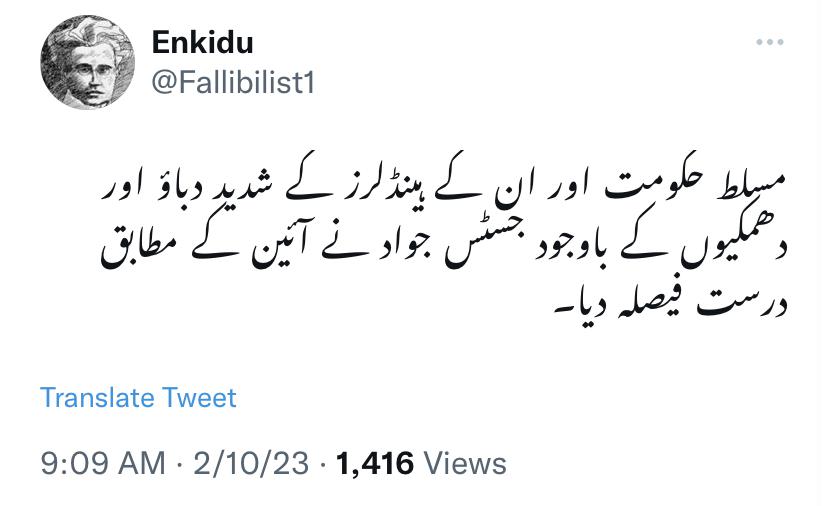 Justice Asim Hafiz
He rejected incomplete Tosha Khana record.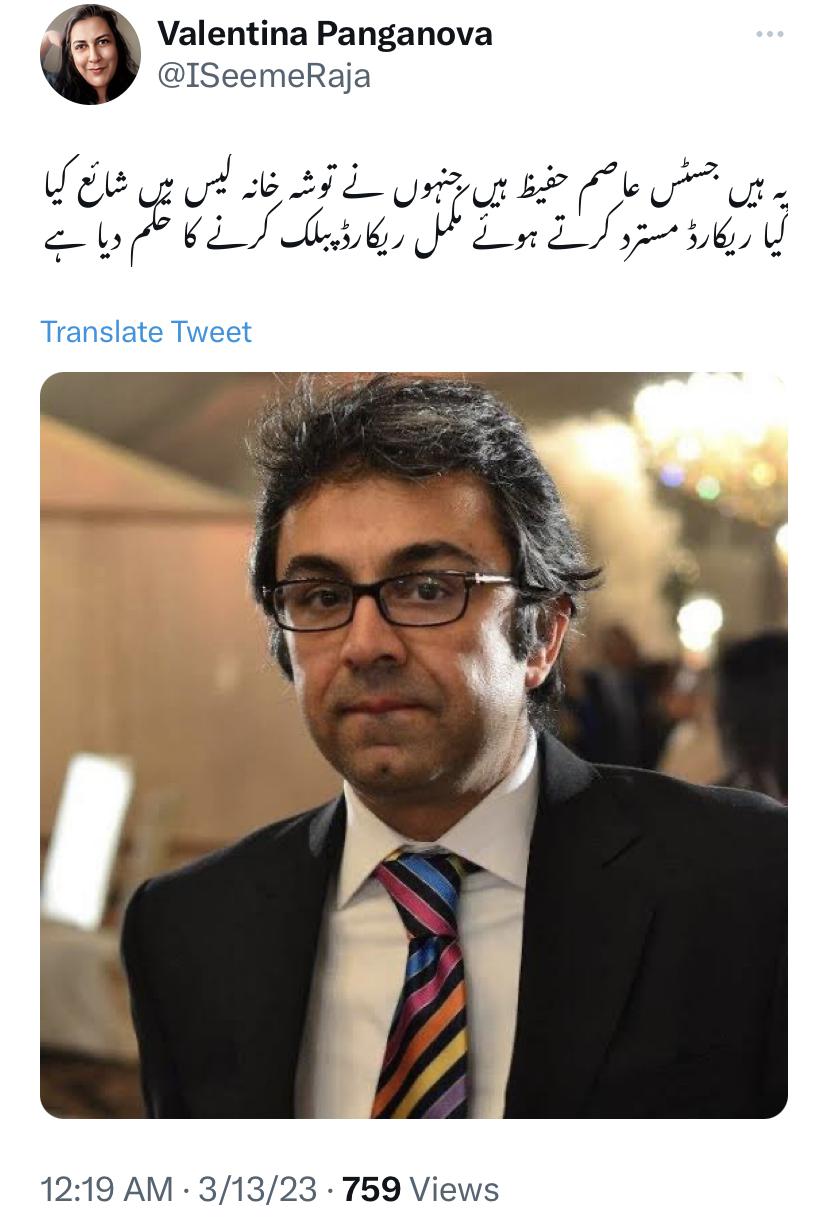 Abdul Wahab
Minor son of a PTI worker who was arrested by the police from his house because they couldn't find his father.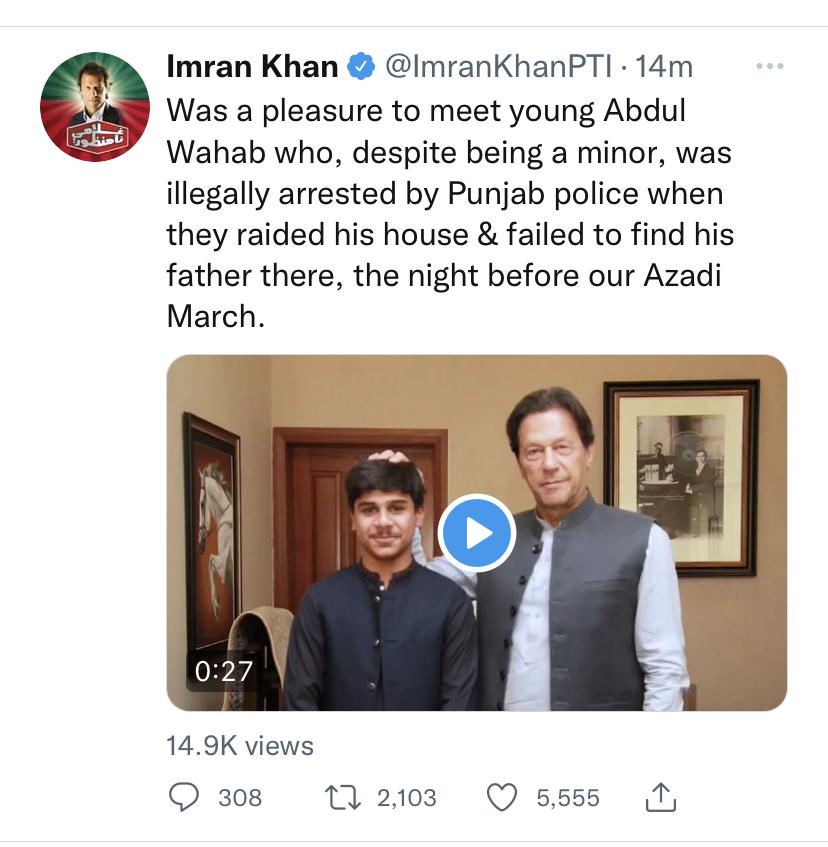 Anonymous
A young man outside Zaman Park home of Imran Khan, there to protect him. Khan later met him along with others doing the same.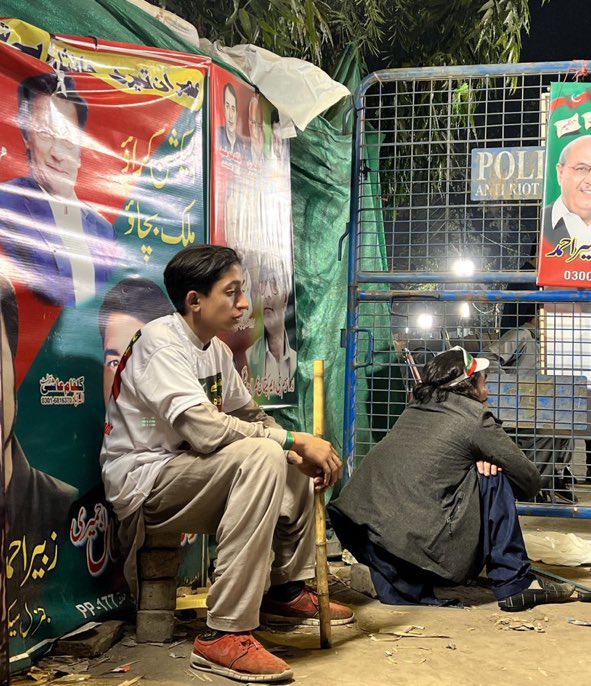 Saeed Wazir
IG Police Gilgit Baltistan, removed by federal government because he refused illegal orders.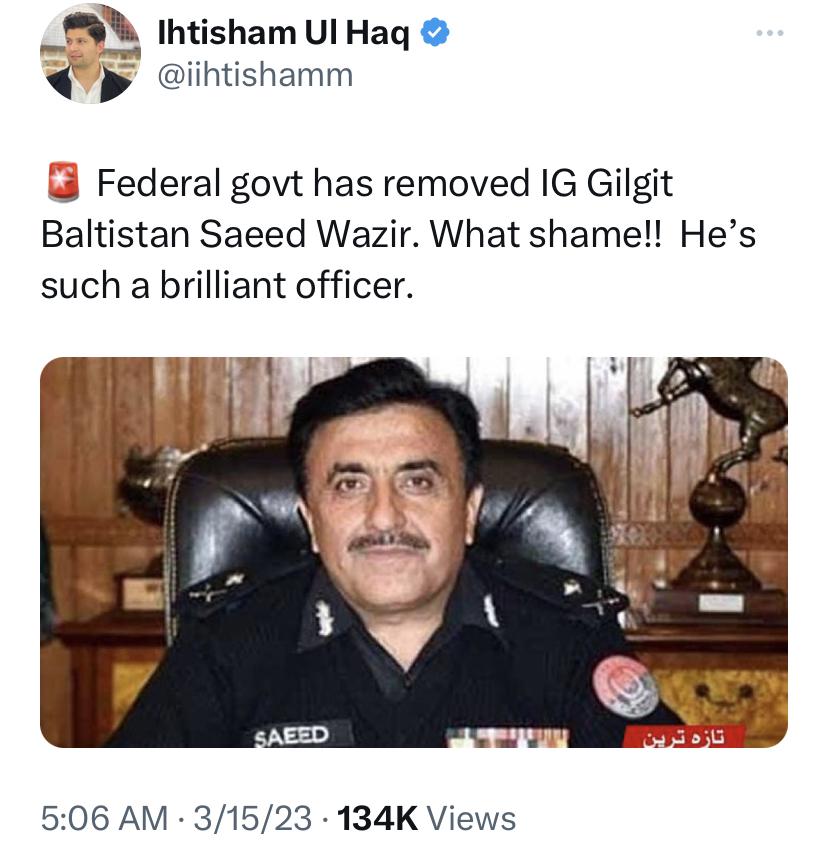 Awais Younas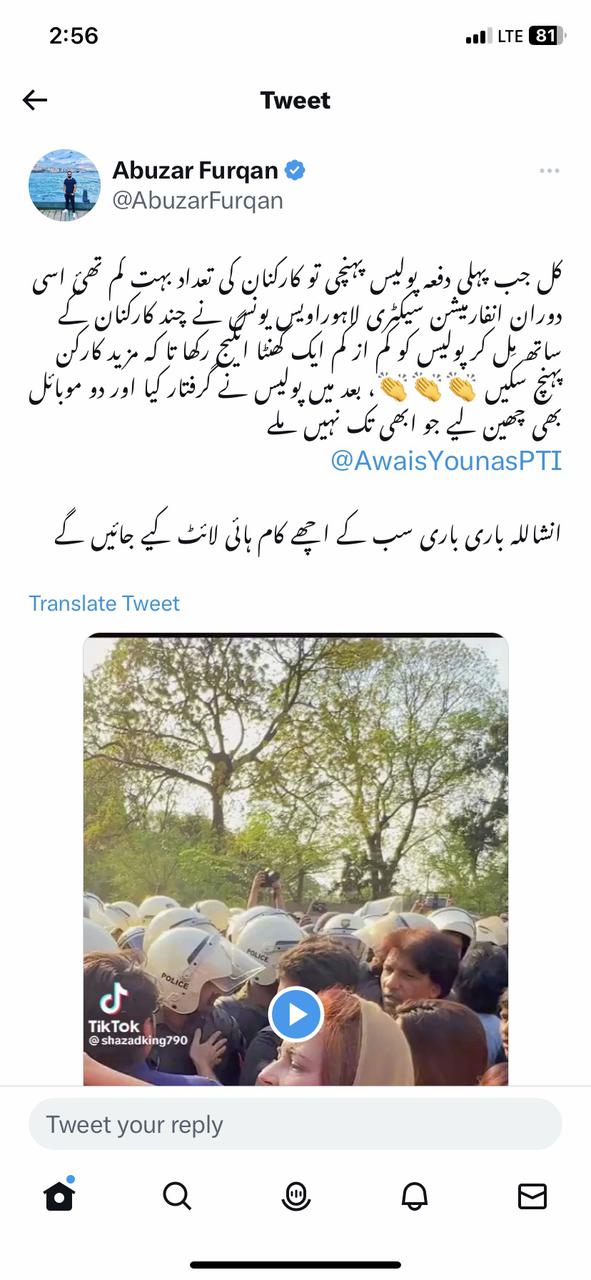 Irshad Rathi
Hit by bullet(s) in face & arm broken in March 2023 shelling on Zaman Park.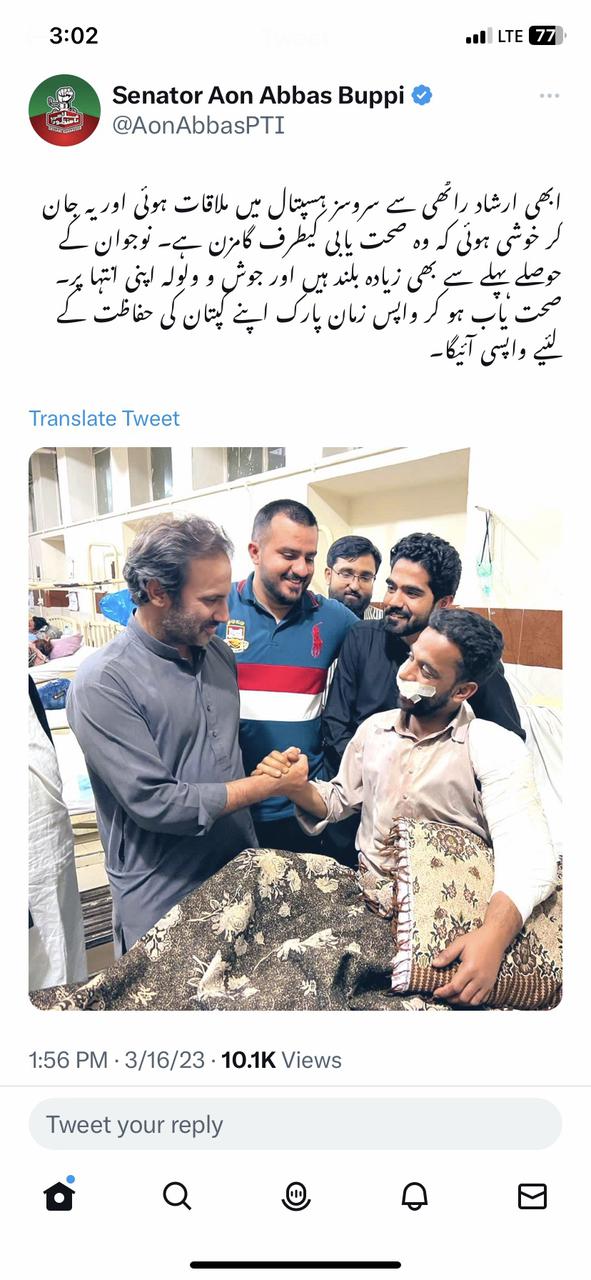 Faizan Shah
Dancing during heavy shelling in Zaman Park in March 2023.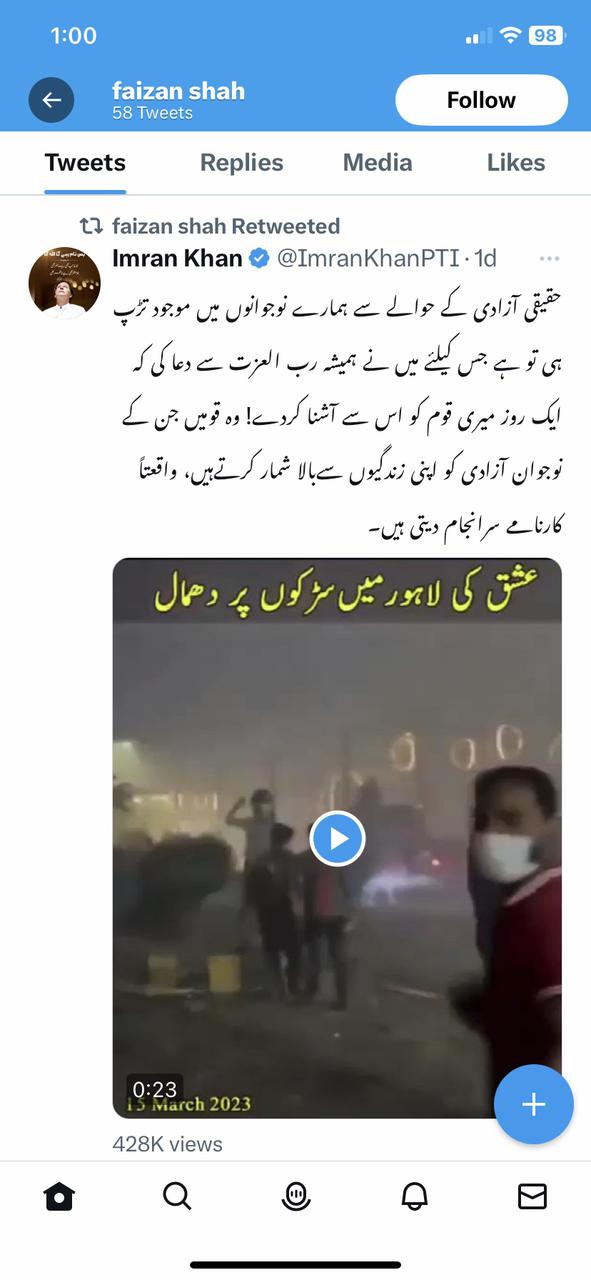 Umer Sultan
beaten by police when Khan appeared in Islamabad court in March 2023.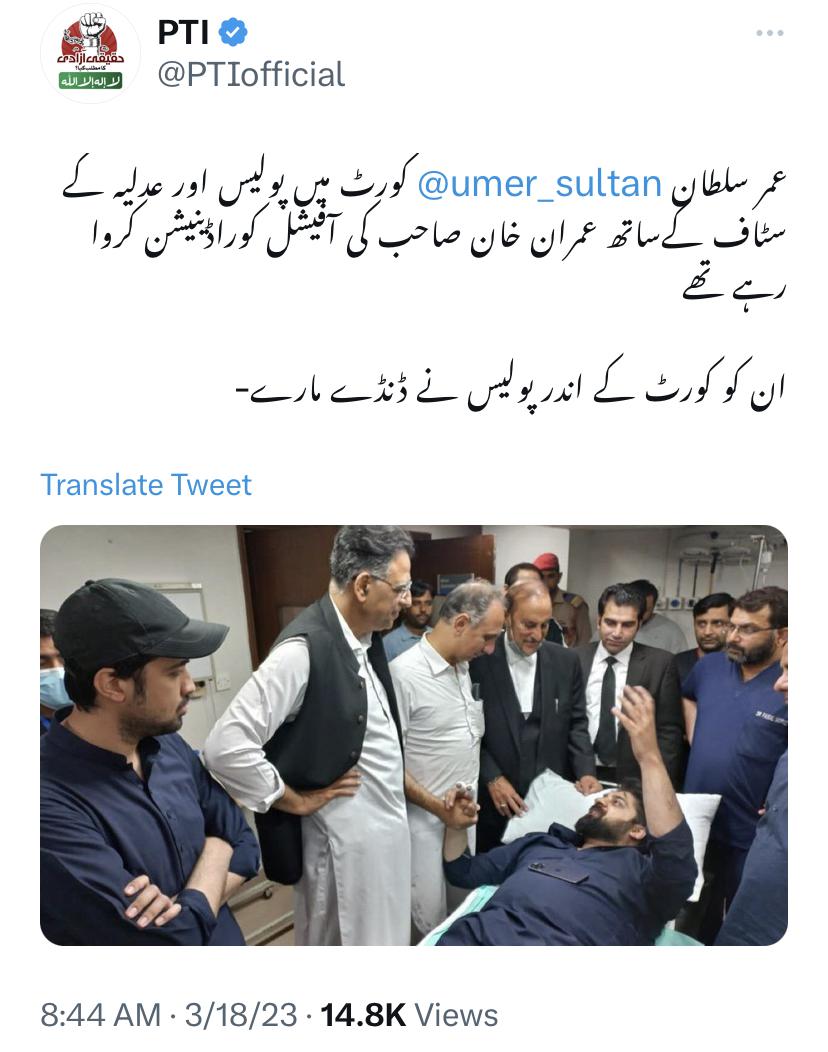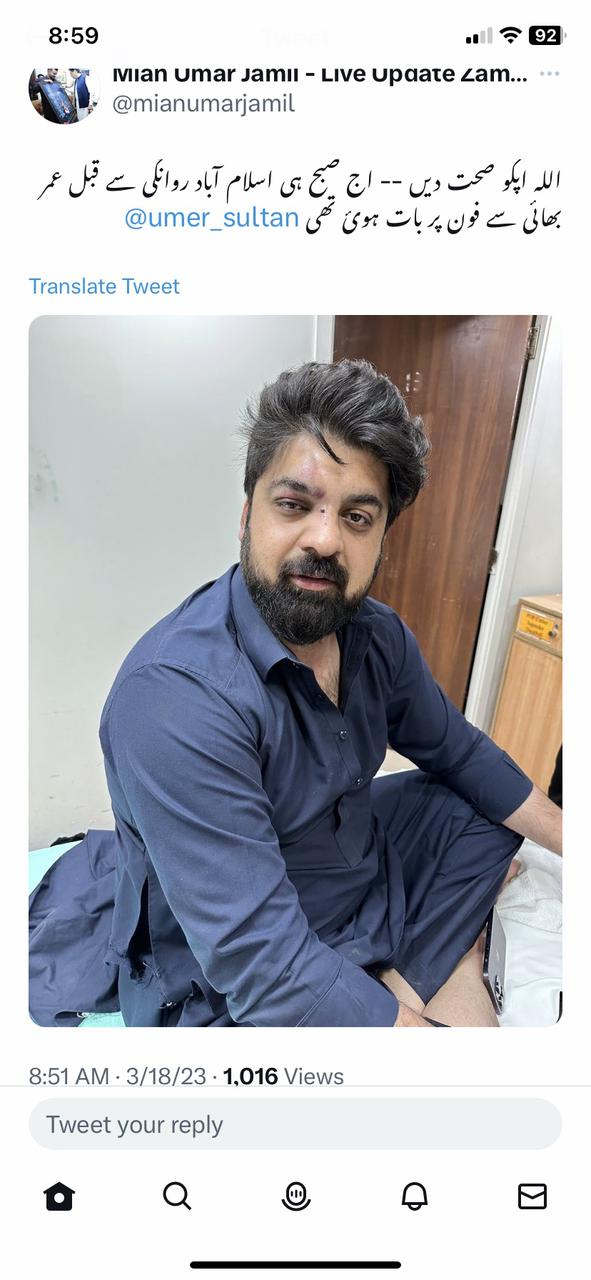 Fareed Malik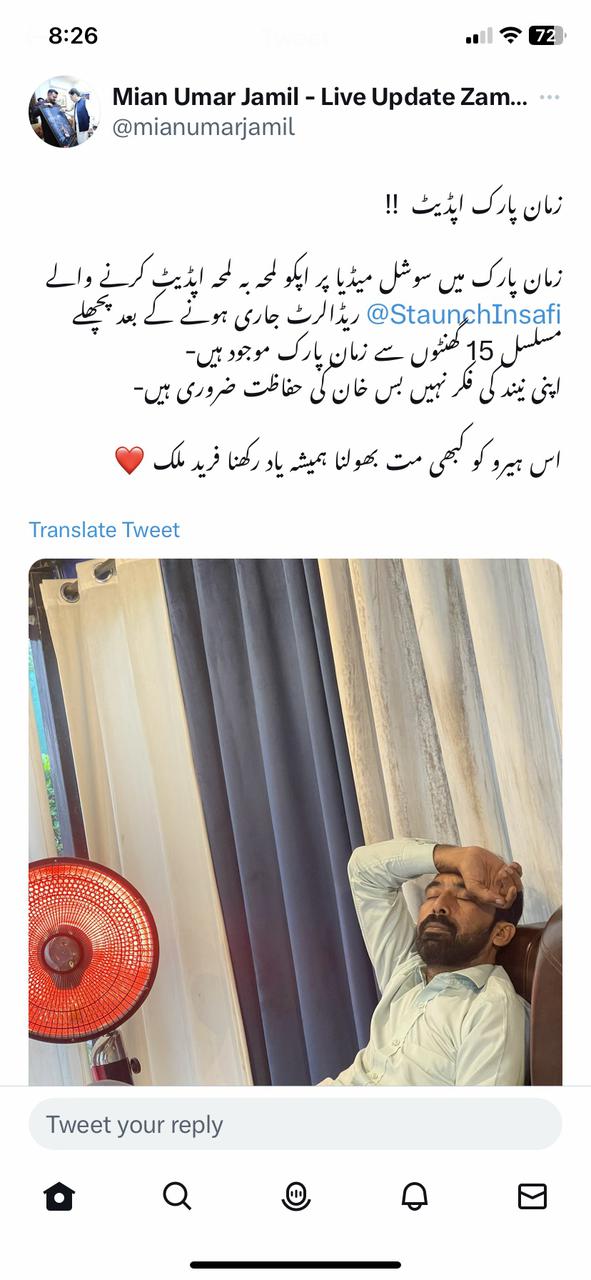 Atif Munsif Khan
Murdered in March 2023 along with 5 or 6 associates by unknown people.
Saleh Muhammad Khan
Arrested by Islamabad police in 2022 & mugshot released to humiliate him.